21 Best High Chair Activities For Every Age
If you are a new parent, then you know how tough it is to maintain your daily chores and social life along with the child. It is not easy to handle them, especially when you need to focus your attention somewhere other than them. So when you are doing something else, you need to keep them busy with tasks that are safe and fun. And in that case, what can be better than high chair activities for toddlers?
High chair activities not only keep the child in one place but also ensure that they are busy enough not to bug you. Here are some activities that you can keep your newborn busy with, regardless of what age they are.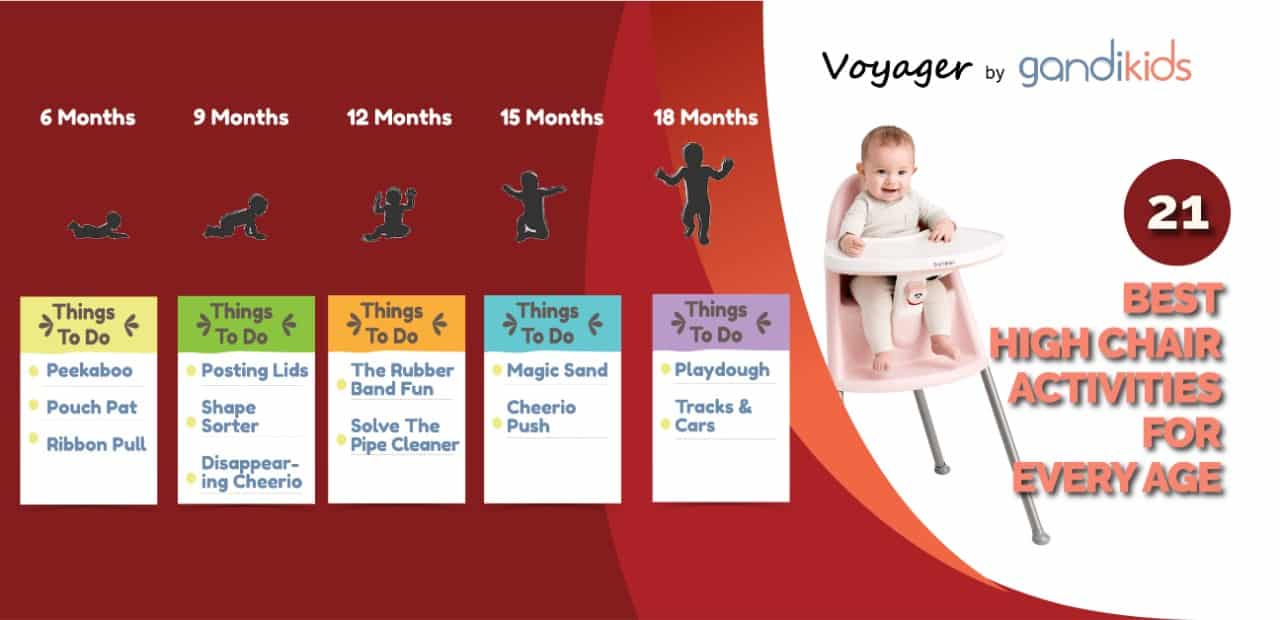 High Chair Activities For Toddlers
Most people use high chairs just for feeding their newborns. However, you can utilize it in a way better manner to keep your child busy with exciting and engaging activities. We have classified these fun tasks according to the age of your child. Let's have a look at them.
6 Months Old
If your munchkin has just started using a feeding seat, then you will be surprised to know that there are many ways to keep them busy when they are not eating. Here are some activities you can consider doing with your toddler.
Peekaboo
This is a favorite of every six-month-old baby. All you need is a small toy and a blanket – if it is your child's favorite toy, that will be perfect. Once he is up and all wiggly, strap him to his seat and lay a blanket on the feeding tray. Now, place his favorite toy under the blanket, leaving a part of the toy showing. Then ask your little one, "where is it?" and encourage him to pull the blanket. If he doesn't pull the blanket, you can do it on behalf of him. This will surely motivate him to go for the next round.
Orange Peel
This is considered one of those awesome activities that can help your kid develop his/her motor skills. Give your child a slightly peeled orange and see what he does with it. His first instinct would be to play around with it or maybe chew. The saggy structure of the orange will encourage your munchkin to poke his fingers through it. But we recommend that you closely monitor your baby while he plays with the orange.
Ribbon Pull
Colors always fascinate the newborns. For this task, all you need is a photo frame and various colored ribbons. Remove the front glass, back cardboard, and the picture from the frame. Then tie multiple rows of different colored ribbons on cardboard and place it in the frame. The kid will keep pulling the ribbons and will be busy for a long time.
Pouch Pat
Little kids always keep on putting toys in their mouths. It becomes dangerous when the toy is small, as it can get stuck in their throats. To keep them safe while playing, you can keep small toys into a ziplock bag and then stick the bag to their high chair. The toys in the bag will keep them busy while you can continue with your chores.
7 Months Old
Babies grow too fast. The games they played a month back might not entertain anymore. If your little one starts to recognize things, you can plan more exciting activities with them.
Sensory Bags
Young kids need fascinating games to play. For this one, you can put some vegetable oil into a super-strong ziplock bag and add food coloring to it. Then stick the bag to their chair using masking tape, so that nothing spills from any side.
Yogurt Painting
Which kid doesn't love painting? But you always have to supervise them during the painting session so that they do not end up eating the paint. Well, not anymore. You can take a muffin tin, place yogurt in its compartments, and add different food colorings to each compartment. This will create a fun painting palette for the kid, and you can continue with your work care freely.
Talking
Remember, this is the learning phase for your munchkin. So, we recommend that you talk to him about stuff, like what mommy is doing, where is daddy, what have you prepared him for dinner, and more. The more you talk, the more he will start to understand things. This is an early stage, so you cannot leave your child alone even if he is engaged with an activity.
8 Months Old
By this age, the kids start developing some skills, and you can take advantage of that. High chair activities for 8 month old children are:
Playing With Jello
Jelly feels like a similar option as the sensory bag. The only difference is that the kid can eat it. You have to make some jelly in a little large container and then place it on the chair. It will keep the kid busy, and they can eat it too. Just remember not to do this before their mealtime.
Rubber Band Guitar
As mentioned above, you can take advantage of skill development. All you have to do is to place some rubber bands on an open container or a loaf tin and give it to your child. They will enjoy playing it for a long time, while you can finish your work.
Clap With Me
This is the perfect age to play this game. This game will help your kid learn how to clap. Essentially, 'cap with me' is a poem that encourages imitation and rhyming. It goes like this: "Clap, clap, one, two, three. Clap, clap, clap with me. Clap, clap, four and five. Clap, clap, clap, bees in hive. Clap, clap, six, seven, eight. Clap, clap, clap, you are great. Clap, clap, nine and ten. Clap, clap, let's do it again."
Shake the Bottle
This activity helps in developing auditory discrimination in babies. All you need is an empty bottle and colored pasta. Fill the bottle with pasta and secure the top with a tight cap. Now, watch your little shake the bottle. When he shakes the bottle, it will make a rattling sound, and the color of the pasta will make him more curious and motivate him to shake often.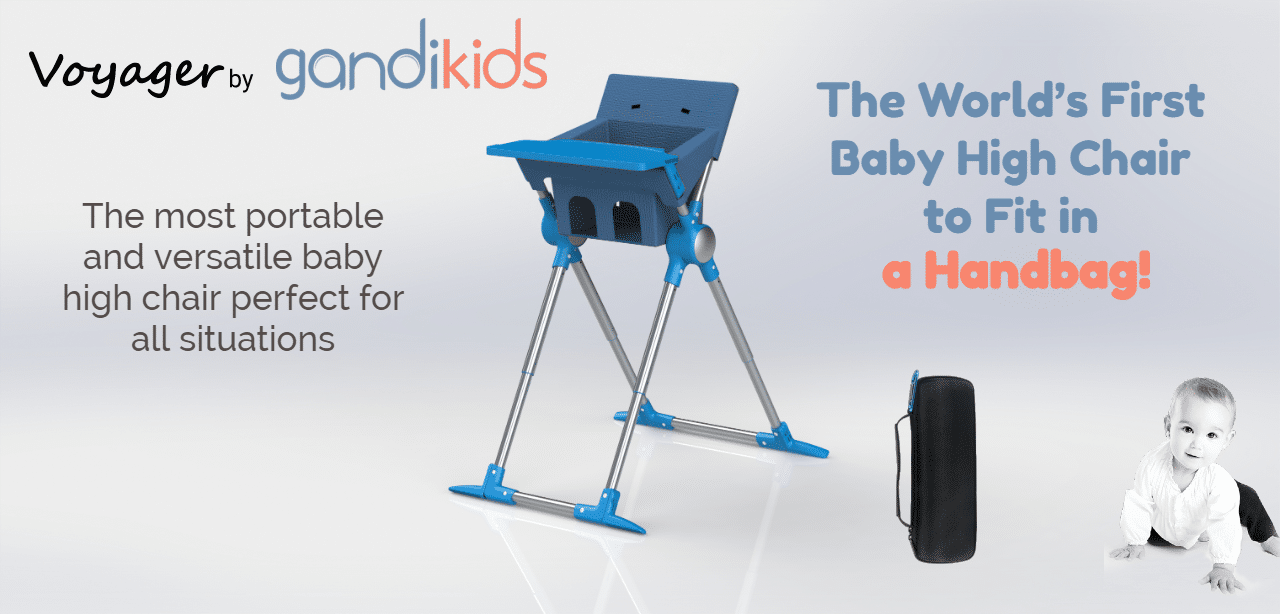 9 Months Old
In this age, it is necessary to give playful and learning tasks to the kids. The best high chair activities for 9 month old children are:
Posting Lids
Posting lids is a fun and developing activity for the kids. You can make it easily by sticking a baby wipes cap onto the top of a box. Then cut a hole in the box where the cap is placed and hand over various-sized jar lids to the kid. Remember to keep the size of the box according to their chair.
Shape Sorter
Just like posting lids, children can learn while playing from this activity. All you have to do is place two cardboards on one another and cut different shapes from the top one. Stick one bottle cap on these shapes and paint them in different colors and patterns. The newborn will have some difficulty, but with time, they will get all the shapes right.
Disappearing Cheerio
It is a variant of an old-fashioned shell game. Simply hide the cheerio inside a cup and see if your little one can find it. It is a simple game that reinforces object performance.
Light Show
This game is designed to improve eye movement skills, as well as body movement. You will need some mini flashlights and colored plastic containers. Put the mini flashlights inside the containers and dim the room light. Seeing colors popping out of the containers will make your little one curious.
1 Year Old
Oh My God! Your kid is already so grown up. You have to find activities that will help them with their motor skills and other aspects of development. Some excellent high chair activities for 1 year old children are:
The Rubber Band Fun
For this one, you need to place some rubber bands around the desk of their chair, and place flat round objects under them. The kid will have a fun time taking all those objects out.
Solve The Pipe Cleaner
Kids of this age loves solving puzzles. You can twist some pipe cleaners around a whisk or a similar object, and give it to your kid. Once they get all the pipe cleaners out, twist them differently.
15 Months Old
15 months is an age where your kid starts to develop speech skills as well as vision. So, try to keep them engaged with the given activity:
Magic Sand
Kinetic sand is a fun and learning method for kids, but you might be worried about them eating the sand. No worries, you can make the kinetic sand at home with safer ingredients. Just mix some flour with coconut oil, and you are good to go. You can also use some baby biscuit base instead of flour.
Cheerio Push
All you need is an egg carton and a box of cheerios. Make some holes on the top of the carton and ask the kid to push cheerios through it. This will help them in tightening their grip over small objects.
18 Months Old
The kids are old enough to give them some friendly games to play as they no more put things in their mouths. High chair activities for 18 month old children are:
Playdough
Playdoughs are a great way of keeping the child engaged while you do your chores or just simply for a bit. But if you are still scared of them putting it into their mouths, then you can also make playdough at home with organic ingredients.
Tracks And Cars
If your kid loves playing with cars, then you can give them some polenta dusting to make tracks from, on their chair's desk. To avoid the mess, you can place the dust in a tray.
Conclusion
These high chair activities for babies are essential as they not only keep the newborn busy but also give you some time to do whatever you want to do. So the next time you are supposed to take your eyes off them, keep them busy with these fun tasks and games.