Taking Baby to a Restaurant – 5 Simple Tips to Follow
If you are a new parent, you can understand the pain of taking your toddler out in public. As you are trying to get used to parenthood, there is nothing much you can do when the child creates problems. You want to take care of your child, but you also do not want to irritate others. The difficulty increases when you are taking baby out to restaurants. You almost leave your social life behind and become a parent more than anything else. What if we tell you that you do not need to do this anymore?
Yes, you heard it right. We have bought some taking baby to restaurant tips that you can follow so that you can enjoy your restaurant visits with your toddler. So let's see how you can take your children out without creating a problem for yourself and others. However, before going for these tips, you should decide whether your child is ready for restaurants so that you can plan accordingly.
Select "kid-friendly" Restaurants
The earliest thing that you need to do is to choose a kid-friendly restaurant. There are several food joints or posh restaurants out there that provide facilities for people who carry toddlers with them. The benefits of choosing them over the regular restaurants are:
They have a child-friendly environment. These restaurants provide you with things like high-chairs, toys, etc. They have everything that you might need while going out to eat with a baby.
There can be a facility for leaving your toddler in a play area so that you can enjoy your time. If not that, they will surely have a staff that can handle your little one.
As it is a child-friendly restaurant, you might encounter other new parents that have a similar problem. With that, you will not end up irritating others because they will understand your situation.
Hence, choosing a kid-friendly restaurant instead of a regular one can be of great help to you.
Take Baby Essentials With You
Not all restaurants are a good fit for babies, and even if they are, it is no compulsion to provide you with everything. So you need to carry all the essential items for your munchkin. If you are taking newborn baby to restaurants, then you have to take his food items or a portable high-chair with you. Also, if you are eating out baby led weaning, you might need specific foods for your child. So remember to carry those.
We also advise you to take a portable high chair with you. In fact, a study has shown that 45% of restaurants do not offer high chairs to their customers, or only have one! Without your own high chair, you will have to rely on luck not to eat with your baby on your lap. The Voyager high chair is a very good example of a high chair that is ideal for taking him/her to a restaurant.
The list of necessary things will depend on the age of your child. So decide in advance what you'll need, otherwise, you'll end up ruining your experience.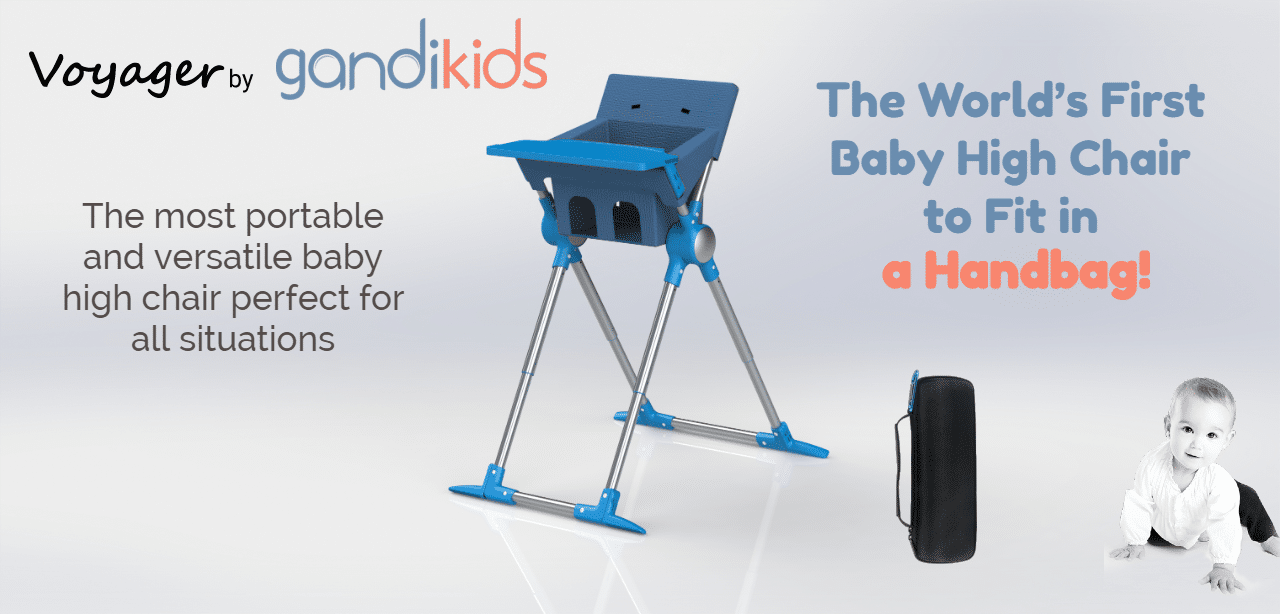 Take A Walk Before Arriving At The Restaurant
Taking a walk before the restaurant visit is a smart trick that you can follow to have a pleasant eating experience. By doing this, you can make him calm and relax so that he doesn't burst out right after arriving at the destination. The walk can also tire him. Once he is tired, he will sleep, and you will be able to enjoy your meal without any problems.
Remember, if the child falls asleep in a stroller, then do not bother taking them out. Shifting their positions can wake them up and irritate them more, creating more problems for you.
Reserve table in advance
Waiting in long lines or waiting for too long can be a problem for the little one. Reserving your seat in advance will ensure you do not have to wait and get a place to sit right after arriving. It will be a peaceful experience for the tot, and they will irritate others and you a little less.
Waiting with many people can also make the tot draw attention to themselves beforehand the meal. By moving directly to the table, you can avoid this. Reservations are most crucial while eating out alone with baby as you can take care of him easily.
Keep In Mind Your Kid's Schedule
You keep track of your kid's time to provide them food at the right time, or to plan their activities. But do you know this scheduling can help you as well? What you can do is that you can decide when to take baby out to restaurants. By planning your restaurant visit around the time when your kid is most lousy or creates less fuss, you will have to deal with fewer problems. It can be either after their meal or during their nap time.
Conclusion
Going out to eat with a baby can be a hectic process for you because small kids tend to create problems and draw attention. Avoiding going out is not an option, as you should not compromise your lifestyle due to the kid. However, you can take care of a few things to get a pleasant experience eating out with your baby. By following these tips, you will make sure that the kid does not create a nuisance to irritate everyone.