What is the best material for a high chair?
Plastic, wood or metal?
If you look at the history of high chairs, you will find that they were made using several different materials. While there is no particular high chair best material, the material plays a role in a majority of aspects.
Factors like lightweight, easy to clean, sturdiness, etc. all are directly proportional to the material of the equipment. The plastic baby high chair, for example, is considered lightweight, but there is no guarantee that it can withstand wiggly child.
Feeding furniture is made using different materials like plastic, metal, wood, or a combination of all of them. If you are wondering which furniture you should buy – plastic, wooden or metal – then you should definitely read this post.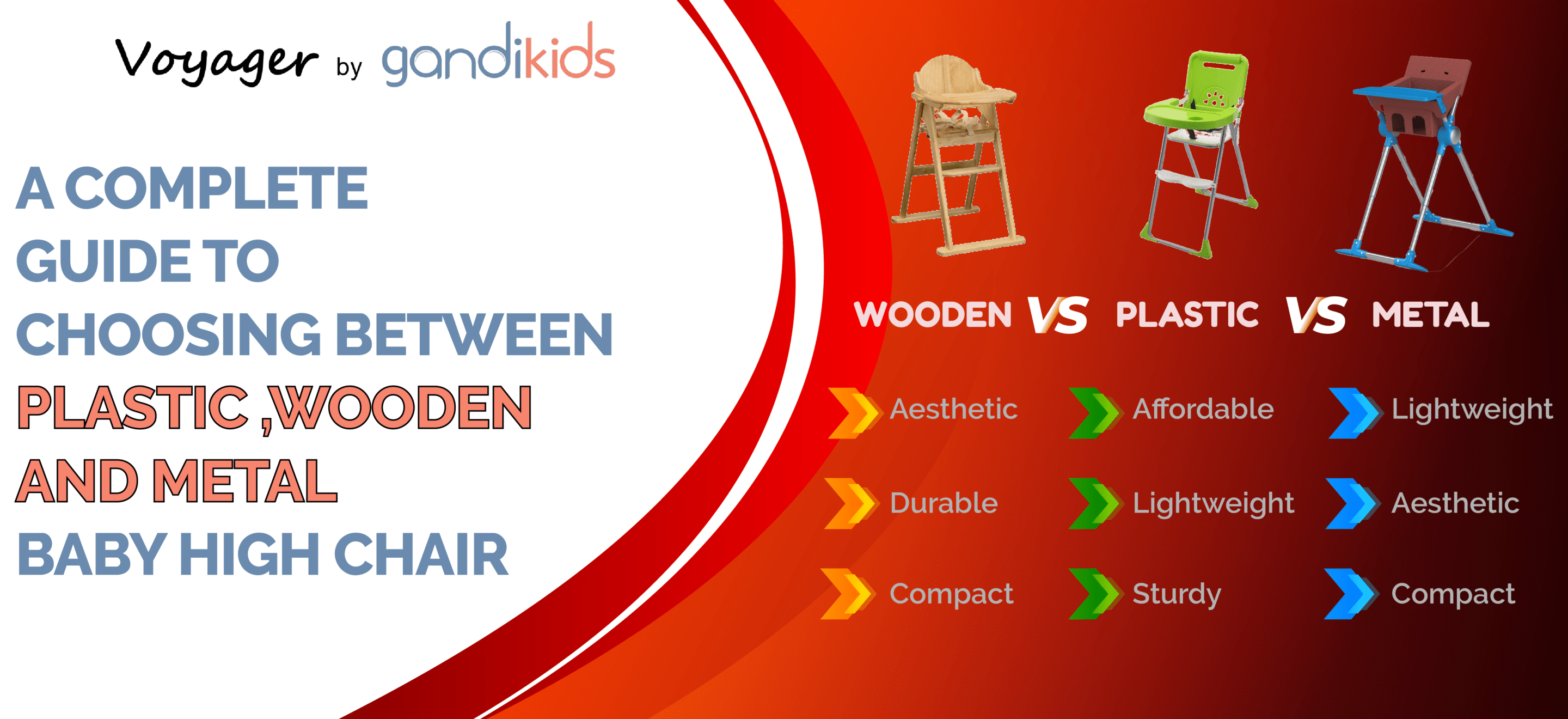 Plastic High Chair
Plastic chairs are one of the most versatile of all the baby furniture. They are not only lightweight but comes in a plethora of design features and other functionalities. But there are certain anomalies that snatch all the charm that plastic furniture has to offer.
If you are considering investing in a plastic chair, you should look at its advantages and disadvantages to make an informed decision.
PROS:
For starters, plastic furniture is much more affordable as compared to metal or wooden chairs. Moreover, they are comfortable to sit on and stylish as well, making it ideal for babies who spend the majority of their time sitting. If you are on a budget, plastic furniture are your best choice
Plastic baby equipment is light in weight, making them ideal for relocating to different places in your house or even when traveling. This feature also comes in handy when you have small space
These chairs are sturdy despite being lightweight. They don't break easily and can easily tolerate all the wiggle and wear and tear of daily usage. The best part is that they are not prone to cracks due to the flexibility plastic material provides
Compared to other materials, plastic baby equipment require less maintenance. They stand sturdy even when exposed to harsh climate conditions, and they don't need any polish or repaint
The best part is that plastic chairs are available in vibrant colors, sizes, and shapes, making them suitable for kids
CONS:
Chairs made of low-grade plastic can easily fall apart
Some chairs are unpredictable when it comes to withstanding pressure and weight of the baby
Elegance is what lacked by plastic chairs as compared to wooden chairs
Plastic is non-biodegradable, making it harmful to the environment. Moreover, the mixture used to make plastic also contain harmful chemicals, which may not be good the baby
Wooden High Chair
Wood is the most common material used for making baby furniture. Since the invention of high chairs, wood has remained the most prominent material. There are several benefits of wood furniture over any other material; however, you cannot underestimate the disadvantages of wood as well.
With that said, let us have a look at the pros and cons of a wooden high chair.
PROS:
Wooden furniture are aesthetically pleasing and looks great in any interior they are put in. One of the great things about wood is that they are pleasing to the eye, and it doesn't matter the type of interior you have it can easily match with your décor and other furniture in your house. In simple terms, you don't have to always put away the chair when your baby isn't using it. The wooden texture will enhance the aesthetic appeal of your interior
Wood is known for its durability and can withstand years of wear and tear if looked after properly. Wooden furniture are handmade, meaning their construction is more superior than plastic furniture. That means it will remain intact for years of use. You don't have to worry about repairs or buying a new one. This is especially beneficial if you have another baby planned in the future
One of the great aspects of wood furniture is that they are heavier. This makes them stronger and sturdier for everyday use. It can tolerate all the wear and tear your child puts into its daily use. It can support heavier babies while ensuring their safety
Modern wood chairs are multi-functional and come with features like adjustable seat and adjustable footrest that enables your baby to sit comfortably in an upright position and make mealtime a pleasant experience
There are models of wood chairs that are compact, meaning they can be folded and stored away when not in use
CONS:
The biggest disadvantage of wooden baby furniture is that they are harder to clean as compared to plastic furniture. Since they are completely made out of wood, they are prone to trapping bits and pieces of food and spills. This makes it difficult to clean
Wooden furniture are insanely expensive as compared to other materials. However, there is a reason for that. Wood used for making baby furniture is of topmost quality that is treated to last for ages. You cannot compromise quality due to the price.
Wood baby equipment are harder to maintain. Since wood is a natural element found as it is in nature, it requires frequent treatments with polish and stains to ensure its appearance isn't ruined and is safeguarded from termites
Metal High Chair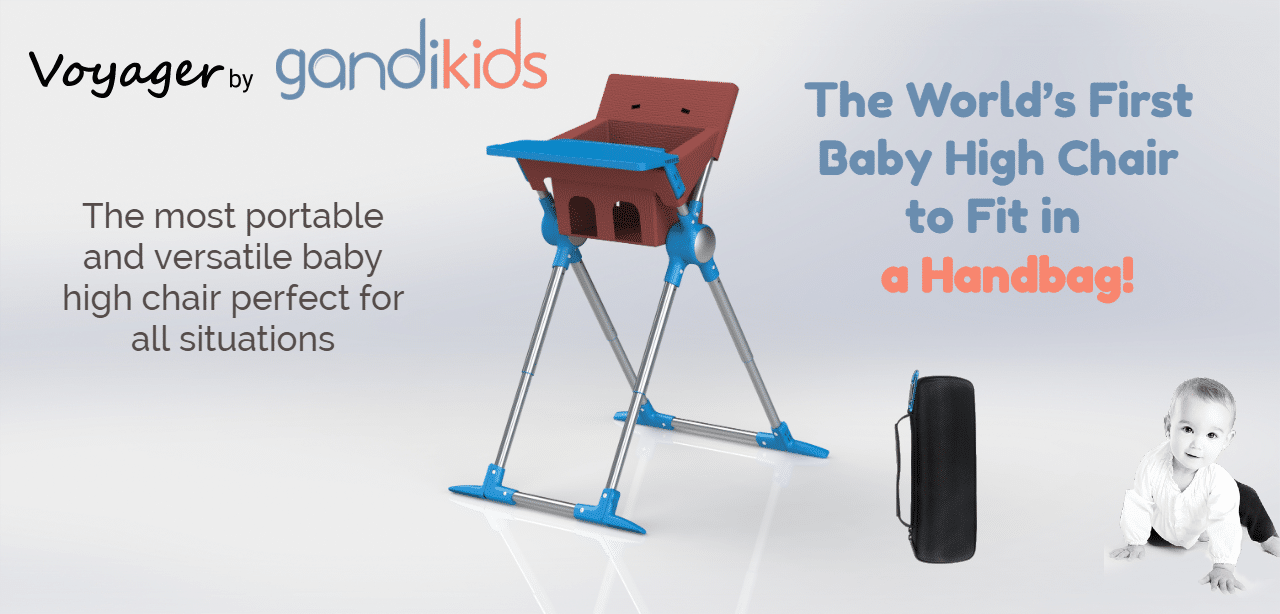 Metal feeding seats are furniture designed with metals. A metal high chair is the most preferred baby equipment, especially when traveling as portable metal chairs are quite efficient in this regard.
Metal furniture are known to have spirit, meaning they can be easily arranged to create a theme
Metal chairs ensure safety and strength. They are waterproof, fireproof, and dustproof. Products like the Voyager can easily fill up your need to have a travel high chair
These furniture are easy to maintain
They offer durability and long life
They are environmentally friendly as well
Cleaning
As we have discussed in the pros and cons of both the materials, plastic and metal chairs are easier to clean as compared to wooden chairs. This is because of the structure and properties of the materials. Plastic or metal furniture offers fine finish due to its flexible nature. So it doesn't absorb any dirt and grime. A simple wipe with a damp cloth is enough to clean a plastic chair. Wooden chairs may attract dirt and grime that can be difficult to remove.
Are they Toxic?
Everything is toxic if you purchase low-grade items for your baby, especially plastic. So, ensure that the high chair is made of high-grade plastic. Wood and metal is not toxic; however, the solutions used to treat wood can prove toxic. Make sure this isn't the case with your wood high chair.
Conclusion
These are the general differentiation between wood, metal and plastic baby furniture. It will help you make an informed decision when you are buying one.