Best High Chair for Traveling – Is It Worth Buying
When you are traveling with a child, it becomes essentially vital that you take care you their traveling and feeding needs. That means you should invest in the best furniture for children to make the mealtimes pleasant for your child. However, you will be surprised to know that there are different verities of traveling furniture available in the market and finding the best travel high chair for baby can be a bit daunting.
We have designed this post to answer all your questions regarding traveling equipment, including the types, considerations to make, and is it worth buying.
Let's begin.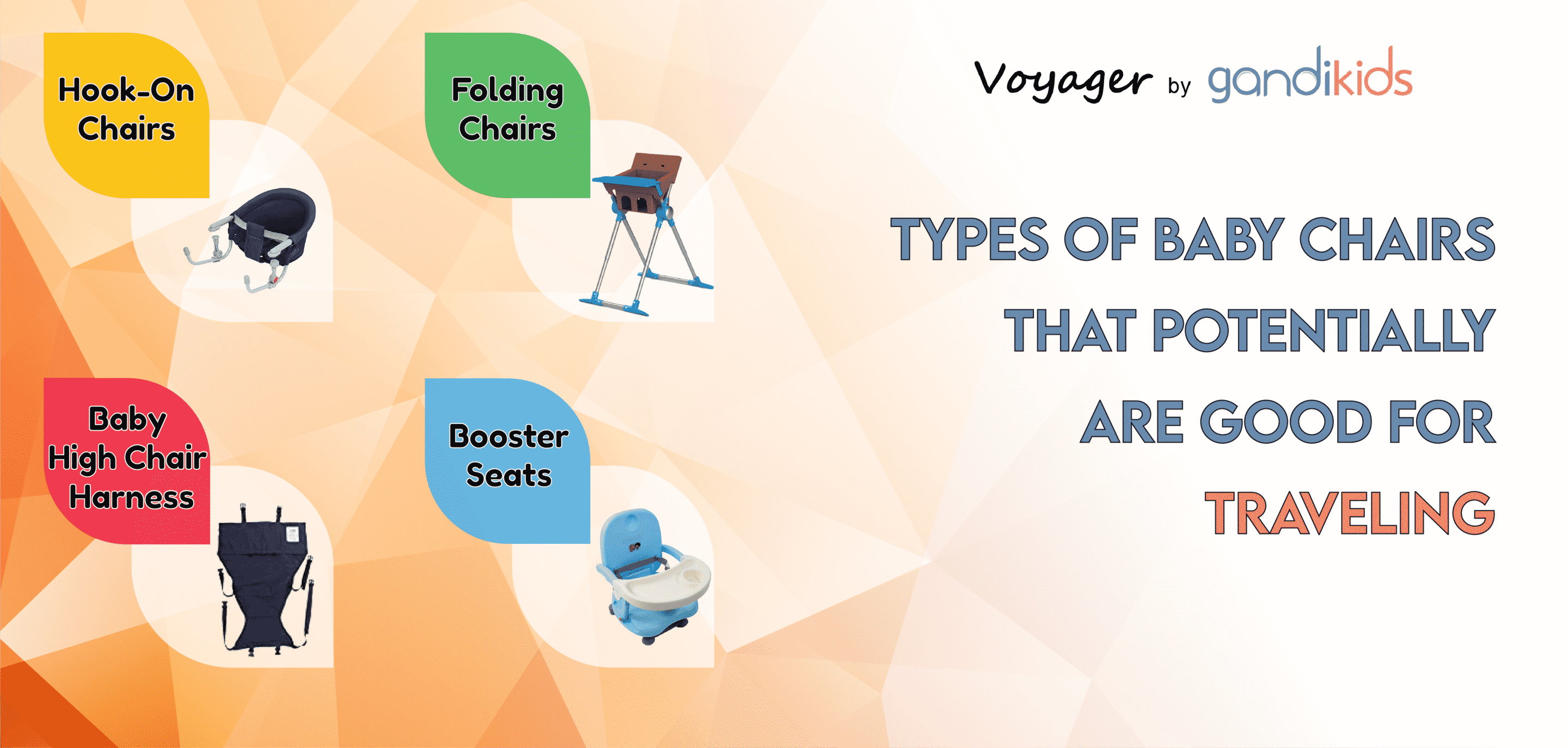 Types of high chairs that potentially are good for traveling
There are basically four types of portable furniture for children that include booster seats, hook-on equipment, baby high chair harness, and folding ones.
These are designed specifically to accommodate travel purposes. Unlike your traditional high seats or even the portable ones, this furniture can be easily taken around from place to place without consuming too much space in your car.
Let's discuss each of the types in detail and understand their uses and purpose.
1. Booster Seats
Booster seats are good options for babies as is it small and encompass all the necessary features to hold the baby upright. It is necessary to keep your baby safe when on the road. Whether you are going to have a quick run to the supermarket or traveling to your in-laws' home, or going on a vacation, buying a booster seat will be quite convenient for you.
It is a challenge to carry your baby all the time, and if you are running a quick errand to the supermarket alone, you cannot just put your kid in your car's backseat and drive away. You need to ensure your child's safety first before anything if you are making travel. Having a high seat for your kid will ensure that he is sitting in an upright position.
Moreover, it will save you a whole lot of time as well. It is essentially useful for children who are usually above 6 months of age. The age limit for booster seats varies based on the model and brand. However, you should only use it once your little one has developed enough core strength to sit unaided.
The problem of this type of product is that you need a chair!
2. Hook-on Chairs
Hook-on seats are a type of chairs that are quite awesome. They come with rubberized arms that can be easily secured to the table using twist tight fasteners. The best thing about such equipment is that you can carry it to restaurants or anywhere.
They are lightweight, collapsible, and probably come with a carry bag. To use this type of travel seat, the recommended age for a kid is 6 months and above. It can be easily clamped on a tabletop. They are incredibly cushiony and comfortable since they mimic a regular seat.
The problem of this type of product is that you need a table!
3. Baby High Chair Harness
Baby high chair harness aren't essentially seats; rather, they are a piece of fabric that can attach the kid to any seat. This the most portable solution you can get. You can easily keep them in your handbag, duffle bag or under the car seat. They are convenient.
However, they are not recommended for babies below 9-months. Since it is just fabric with a strap, it cannot support a child who still needs aid when sitting upright. It is great for babies aged 1 and above as it will keep them secure while you feed them. Still, it is recommended that you stay close to your child while she/she is attached to a furniture using the baby high chair Harness.
The problem of this type of product is that you need a chair!
4. Folding Chairs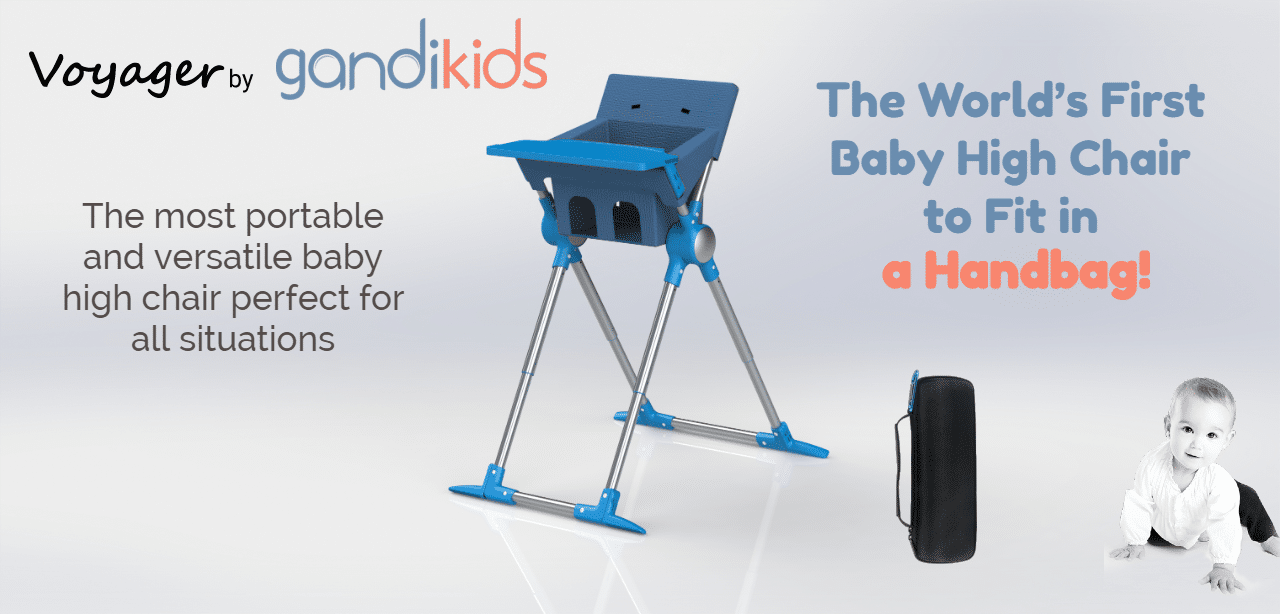 Folding chairs are the best solution for babies. These furniture look like your regular seats, but they come with the capability to be easily folded and adjusted. You can easily put it in the back of your car while traveling and are a great tool that makes traveling with baby easy.
One of the best things about folding furniture is that you don't need another seat, unlike boosters, hook-on, and baby high chair harness. They are generally compact in size. For example, a model like gandikids' The Voyager can easily fit inside your handbag.
The best advantage of this type of product is that you won't need another chair or table to tie it to.
What are the most important criteria for traveling high chair?
There are several factors to keep in mind when looking for the best portable equipment for baby. They include:
1. Portability
One of the biggest aspects when choosing a furniture is portability. You would want a seat that can be easily carried around without any hassle. There are models that can be stored under the car seats while some can be easily stored inside a handbag.
However, it will depend on the type of equipment you are looking for. As mentioned above, there are four different types of portable furniture, and all have different functionalities.
2. Weight
The weight of the seat also plays a crucial role in how effective it is. As the name suggests, they are designed for travel purpose. However, they have to be sturdy enough to accommodate a baby while being lightweight so that you can easily carry it around.
3. Safety
The seat you choose should come with all the essential safety features like safety straps and more to keep the child in an upright position and preventing him from wiggling and falling. It is the most important feature to consider.
4. Price
Your budget also determines the type of equipment you should buy. Compared to your traditional high chairs, portable chairs are relatively cost-effective. Still, some high-end models can be expensive. So, choose accordingly.
5. Easy to clean
Since you will be using a chair to feed your baby, it can easily get dirty with all the food and mess your baby will create. You need a furniture that can be easily cleaned and dried for next use.
Conclusion
These are some tips you need to keep in mind when looking for the best equipment for baby. It is always important to do your research and based on your requirements, budget, and baby needs, make an informed decision.