How to Choose Baby High Chair
If looking at different types of baby chairs on the market shelves is giving you cerebral pain, then you have come to the right place. In our "how to choose a baby high chair" guide, we will explore different factors you need to keep in mind when buying a chair for your little one.
So, without further ado, let's get started.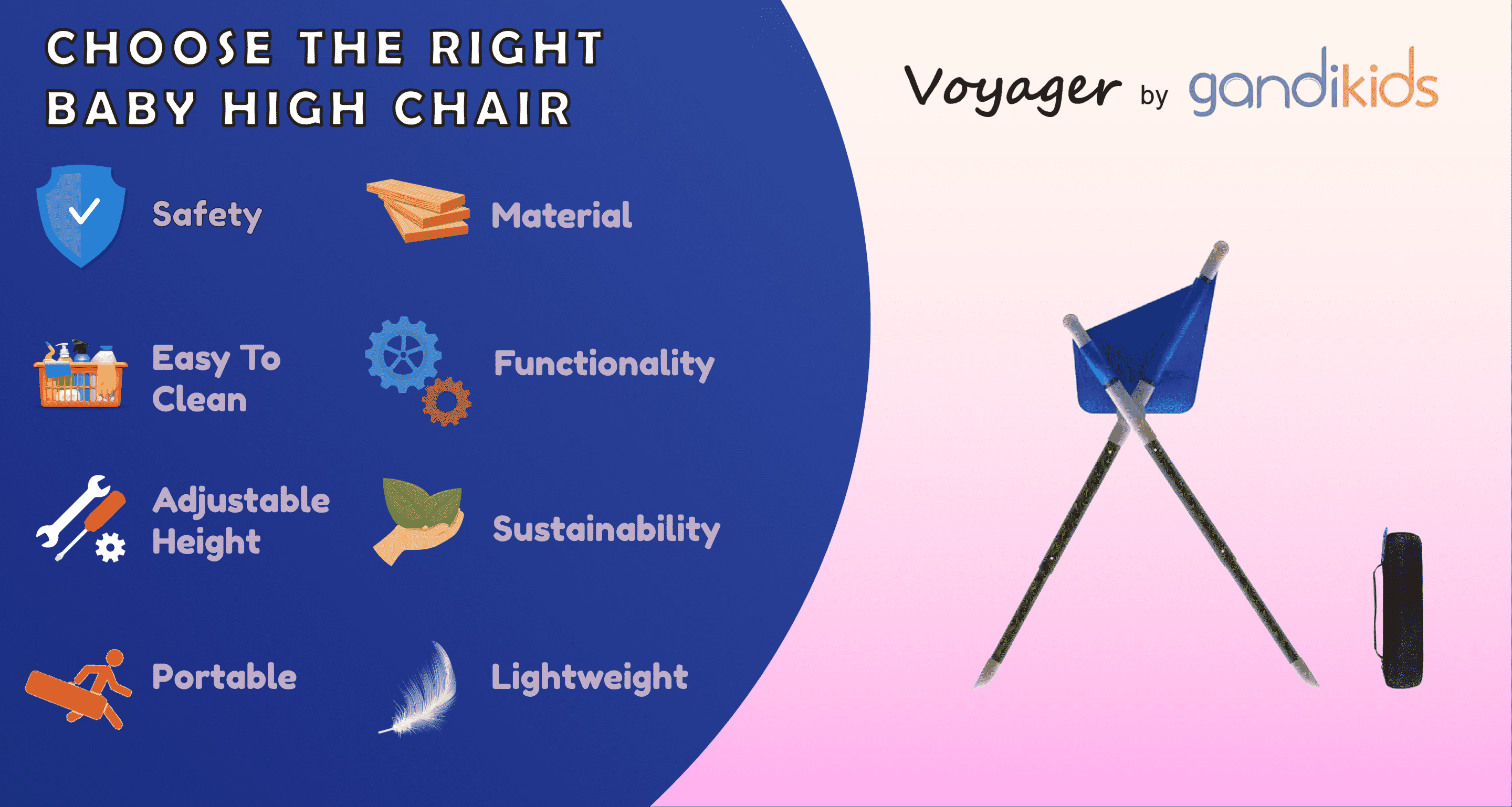 Why you need a high chair
It is safer for the toddler than your other seating options as it encourages feeding in the upright position
It keeps the child straight while eating
You don't have to hold your little one while feeding him/her
It is a good investment overall as it makes your lives, as parents, a lot easier
Things to Consider when Buying a High Chair
For parents, a high chair is not of extreme primacy when their munchkin is a newborn. However, once your little one hits the 4-6 month mark, and you start introducing small bites and purees to him/her, you will need it.
Although how to feed and what to fee will be your primary concerns, having the right feeding furniture can increase the overall experience by making mealtime pleasant and enjoyable. As you know, there are different varieties and types seats available in the market; you need to focus on certain factors in order to bring home the best baby feeding seat.
With that said, look into the following factors when buying a high chair.
1. Material
When you ask how to choose the right feeding equipment, experts say that it all lies in the material. These seats are made using a variety of materials. From your traditional wooden seats to metal ones, plastic, and the combination of all, there are different varieties when it comes to material. You need to choose one that is safe for your little one and is chemical-free. There are certain pros and drawbacks of different materials. For example, wooden high chairs are slightly on the heavier side and are harder to clean as well. So, your convenience is important.
2. Safety
These products nowadays come with all kinds of safety measures, including stability, straps, etc. The goal of a feeding seat is to keep your child sit straight and keep him/her safe from falling while feeding. Toddler tend to move a lot, so make sure that the high seat doesn't lose its balance when moved and is equipped with all the necessary safety straps.
3. Sustainability
You will probably need the product to last long for at least 3-5 years until your baby doesn't use it for eating. You would not want to spend anything extra on repairs or buy a new one if it gets damaged. So make sure that you buy the feeding chair for appropriate ages, and the materials are enduring and can tolerate the tantrums of your child for years.
4. Functionality
Feeding seats these days come with a ton of functionalities. For starters, there are feeding trays included for hassle-free feeding, which are removable and easily cleaned in the dishwasher. For babies who can't sit straight, you can go for a model with a reclining seat. Moreover, look for attributes like magnetic bowls, splash mats, and adjustable seats, among other aspects, as these functionalities will make the job easier for you.
5. Comfort
Comfort is of utmost priority. Make sure the seats are comfy and cozy for the baby. Padded and cushioned seats are easier on your munchkin's bottom, and if your child is a bit older, a footrest is a nice addition to the seat. Look for any sharp edges, large crevices, holes that can hurt your little one's arms and fingers.
6. Lightweight
The product must be lightweight for you to carry it easily around the house. If it isn't light in weight, make sure it has wheels so that you can easily slide it around the house when needed.
7. Portable
Portability comes in handy if you are traveling places. When traveling, you would want your baby to have the same eating experience as home. So, focus on portable models, especially those that are foldable, which are not only easy to carry but easy to store as well.
8. Enough Space and Large Seat
You need to buy a high chair keeping in mind for how long your child will be using it. That is, if you buy an age-specific model, your kid will only be able to use it as long as he/she is of that age. What if he/she grows and still need a feeding seat? So make sure that the model you buy accommodate your baby easily and with comfort until there is no need to use it.
9. Adjustable Height
Adjustable height feature of the high chair gives you the comfort of feeding your baby anywhere. For example, if you love the idea of the whole family eating together, you can adjust the height of the seat as per the height of your dining table.
10. Easy to Clean
Cleaning a high chair is a different story. In short, it can turn out to be your worst nightmare. So, make sure that all the parts of the feeding seat are washable (including machine washable), and removable for easy cleaning.
Conclusion
We hope that you get the answer to your question about how to choose the best high chair for your baby. These are the common considerations to make, and you are good to go. The budget is also an important consideration, but when it comes to your baby's safety and comfort, it can be overlooked.
If you have any questions regarding choosing a high chair for your baby, you can ask us; we are happy to help.